Skip to main content
Stock code
FMS112P-REF
Brand  FMS
  Good Stocks
Available for same day despatch Mon–Fri if ordered before 2pm, when possible.
RRP
£
449.99
£
404.99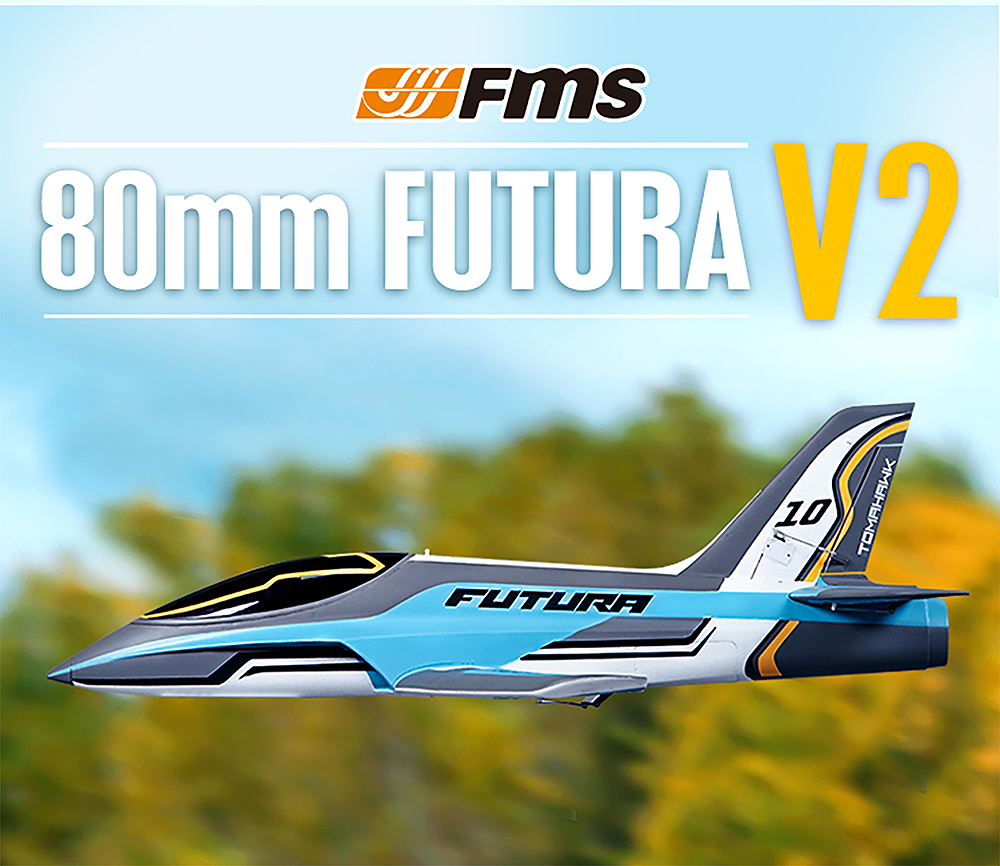 A legend reborn - The FMS 80mm FUTURA V2
The FMS Futura is alicensed sport jet developed by FMS in conjunction with Tomahawk- Aviation. Designed by a Sino-German team of engineers, the Futura represents the pinnacle of what a foam jet can be.
While retaining V1 features such as the CNC metal trailing-link landing gear for rough field operations, robust airframe with high-strength wing spars, oversized electronics bay etc. The FMS 80mm Futura V2 is upgraded with 13g all-metal analog servos for increased precision and torque, improved plug-type connectors that are durable and reliable, and an attractive blue paint scheme.
Powering the Futura V2 is an industry-leading Hobbywing 100A ESC paired with an uprated 3280-KV2100 motor turning an 80mm 12 bladed fan- delivering breathtaking power with absolute confi-dence.
Pedigree matters! Fly the ultimate sports jet- the FMS 80mm Futura V2!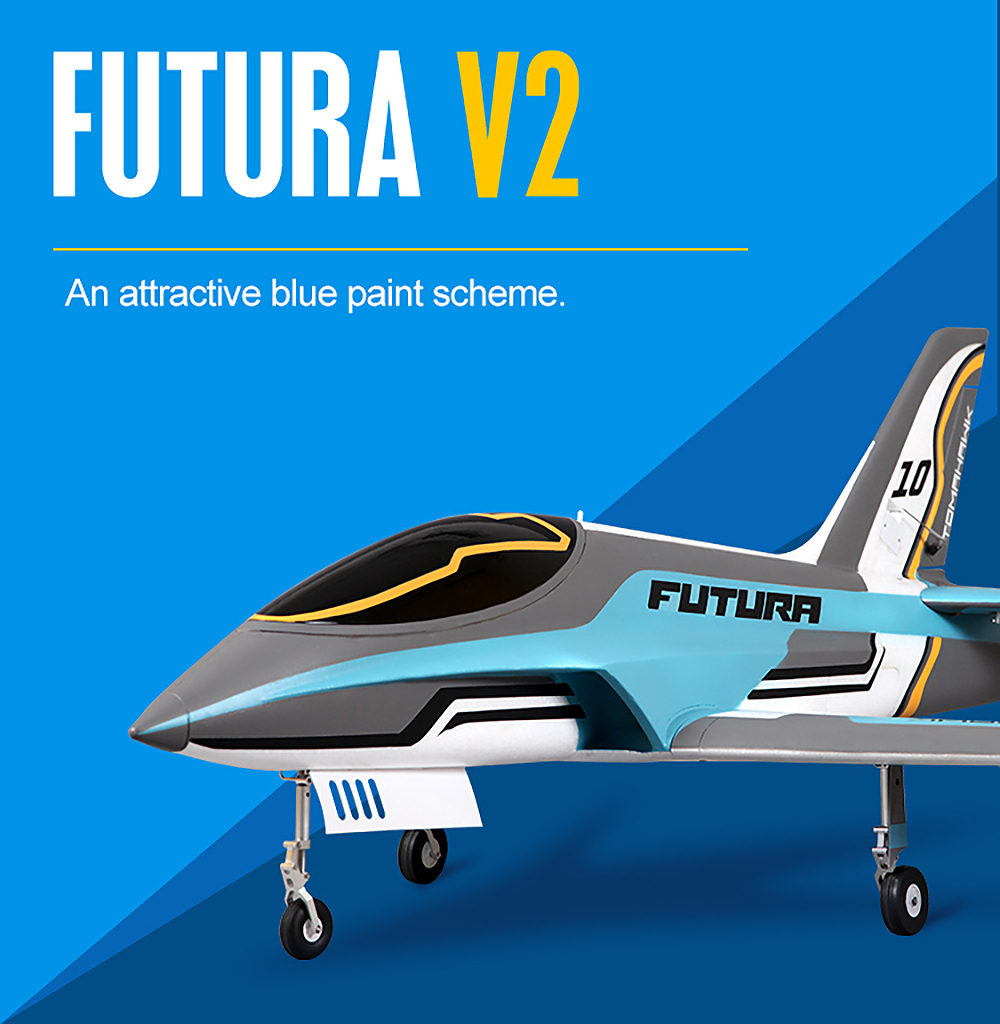 Features
Power system: Hobbywing 100A ESC, 3280-KV2100 motor, 80mm 12 bladed fan
CNC all-metal landing gear. 10mm diameter worm drive, trailing-link suspension, highly precise and robust.
All servos upgraded to 13g all-metal analog units for improved precision and torque
Large tires- suitable for rough-field operations
Oversized electronics bay for easy maintenance and accepts large capacity batteries
Glue-less assembly, the aircraft is built with only 10 screws
Environmentally friendly water-based paint
Newly designed latch prevents unexpected canopy release in flight
Improved plug-type connectors for added durability and reliability
Attractive light-blue paint scheme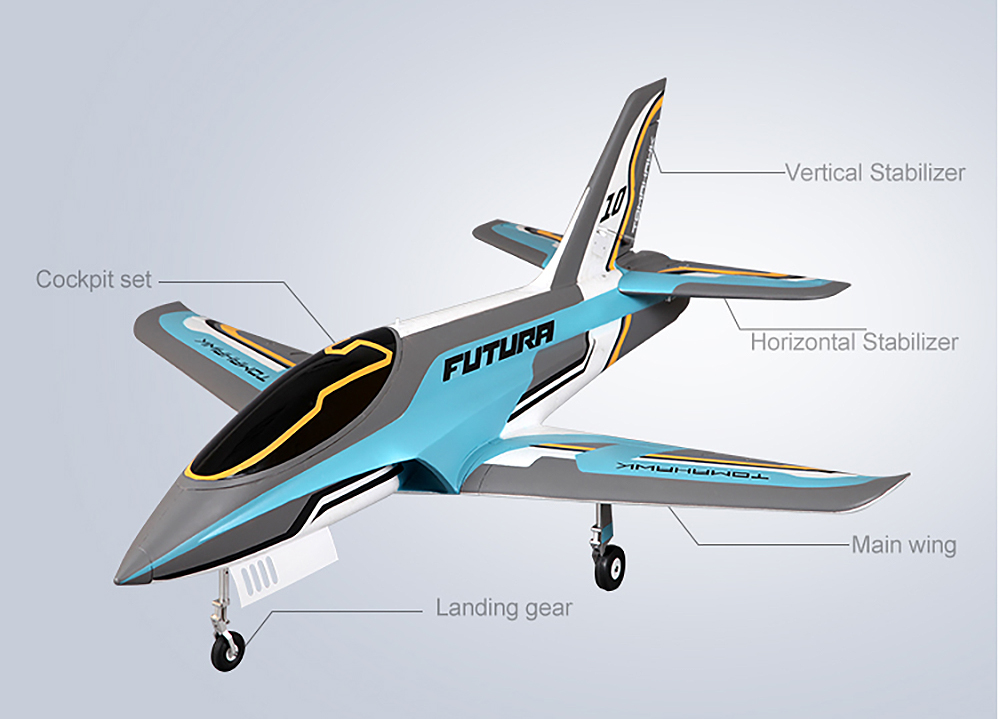 Specifications
Wingspan: 1060mm/41.7in
Overall Length: 1170mm/46.1in
Flying Weight: Around 2500g
Motor Size: 3280-KV2100
ESC: 100A
Servo: 13g metal analog Servo x 8
Radio: 6 Channel
CG (center of gravity): 100-105mm (From Leading Edge)
Recommended Battery: Li-Po 22.2V 4000mAh 35C
Battery Connector: XT-90
Aileron: Yes
Elevator: Yes
Rudder: Yes
Flaps: Yes
Retracts: Yes
Approx. Flying Duration: 3-5 minutes
Minimum Age Recommendation: 14+
Experience Level: Intermediate
Recommended Environment: Outdoor
Assembly Time: 15 minutes
Is Assembly Required: Yes
Material: Durable EPO
Requires: Radio System, Battery and Charger


For further information: on flying your RC plane in a safe and responsible manner please check out www.bmfa.org