Skip to main content
Stock code
3141
Brand  Overlander
  Good Stocks
Available for same day despatch Mon–Fri if ordered before 2pm, when possible.
£
35.99
Each
The "square shape" 5300mAh 7.4V 2S 55C LiPo battery is part of Overlander's hard cased Sport Track range. This range is specifically designed with car and buggy users in mind. The lithium battery pack is enclosed by a hard shell, thus offering extra protection from any bumps and vibrations. The entire Sport Track LiPo range are BRCA (British Radio Car Association) a pproved. This grants the user 100% confidence when purchasing from this range. The weight and dimensions of these packs make them perfect for your racing cars and buggies! Sporting high constant discharge rates these LiPo batteries give you the power and durability to achieve a performance you're sure to be impressed by!
---
All of Overlander's LiPo batteries are designed with optimal performance in mind. We always work to maintain the longevity and reliability of our products. Our LiPo batteries are manufactured using the superior stacking method; this provides dependable capacity and consistent power. Every cell is fully matched in Internal Resistance, Voltage and Weight before they are put together to create your battery packs. This stringent matching process makes for exceptional results both competitively and professionally.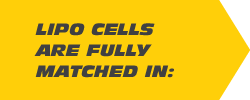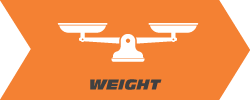 Overlander is proud to work in conjunction with the renowned 
  to produce high-quality LiPo packs. The production process for LiPo battery cells is fully automatic and completed in a dust free atmosphere using uniformity and conformity. Fullymax cells are renown for their:



Overlander LiPo packs come fully equipped with high quality silicone leads and a choice of connector. It is safe to say with Overlander you are guaranteed to receive the highest-quality, top-performing batteries that you've grown to expect. Lithium Polymer batteries provide superior voltage, capacity and discharge/power. These combined into a lighter, more compact size, make lithium battery packs the favourable choice over alternative chemistries.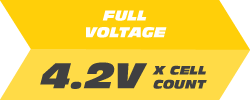 SKU - 3141
Barcode - 5060470210939
Chemistry - Lithium Polymer (LiPo)
Capacity (mAh) - 5300
Voltage - 7.4V
Cell Count - 2S
Constant Discharge - 30C
Burst Discharge - 55C
Maximum Constant Current - 159A
Maximum Burst Current - 291.5A
Watt Hours - 39.22Wh
Wire Gauge - 10AWG
Balance Connector Type - JST-XH
Brand - Overlander Batteries
Range - Sport Track
Length (mm) - 139
Width (mm) - 47
Depth (mm) - 25
Weight (g) - 255